Germinated Hemp Starts Delivered to Your Door
iHEMPx is proud to offer the best selection of meticulously cultivated hemp starts grown under the care of our trusted nursery partners from genetics provided by the leading companies and growers in the country.  
KNOW WHAT YOUR GROW
We uphold the idea that knowledge is power. That's why we provide third-party reporting for all of our varietals including Germination and Feminization Reports and COAs.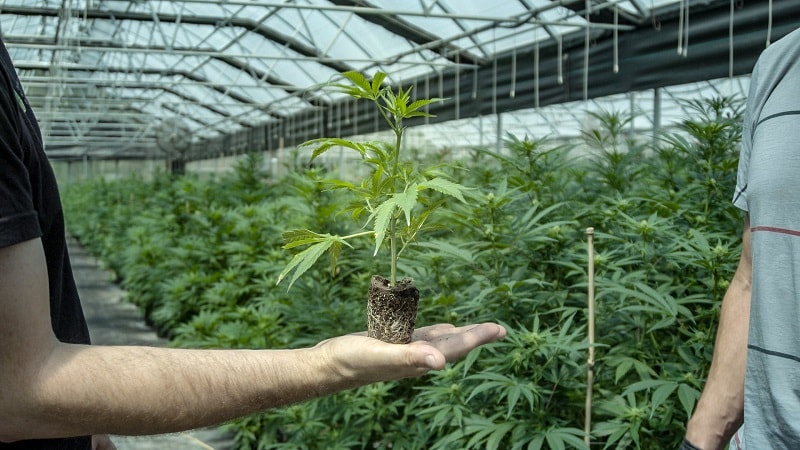 iHEMPx works with a trusted network of nursery partners around the country to germinate our reliable genetics, offering farmers a chance to start their season a little later. 
This season, let the team at iHEMPx help you select the best varietal to meet your goals, and determine if hemp starts are right for you. 
All starts are an additional $0.35 to the selected varietal seed price with a minimum order quantity of 10,000 starts. 
FEMINIZATION RATES OVER 99.9%*
GERMINATION RATES ABOVE 95%*
COMPLIANT AROUND THE WORLD
HEMP STARTS FREQUENTLY ASKED QUESTIONS
Hemp starts, also known as seed starts and seedlings, are seeds that are carefully planted into the soil of a cell pack to start the germination process. These seeds are kept in controlled environments where the conditions are ideal for the seed to sprout. 
What are the benefits of buying starts?
Hemp starts are great for growers who lack the time or controlled environmental infrastructures to successfully germinate their seeds. 
Starts are also perfect for growers who want to save time, space or have a limited planting window. Growers can also save money in the long run, as their is less risk of losing the plants to inclement conditions or pests during the early germination stage.  Also, buying starts guarantees that all of your plants are female. 
All of our starts are grown under the care of our expert nursery partners located around the US. Starts are harded-off and arrive in trays of 128 or 72. 
Which varietals are compliant?
All varietals offered through iHEMPx are compliant with the established US federal regulations below 0.3%. Many of our varietals yield high levels of CBD or CBG and minimal levels of THC making them internationally compliant as well. All of our varietals are rigorously tested before being put on the market. COAs are available for each varietal. 
What does "AOSCA Approved" mean?
The Association of Official Seed Certifying Agencies (AOSCA) is dedicated to assisting growers and suppliers in the production, identification, distribution and promotion of certified classes of seeds.
AOSCA Approved means those varietals are approved for Certification and meet the requirements of the Association of Official Seed Certifying Agencies, relating to purity, germination and variety identity. AOSCA Approved "certification" is a 3rd party auditing and inspection program that is designed to assure growers and buyers that varieties are tested for seed quality and are true to the variety description. 
Should I buy seeds or starts?
We offer both seeds and starts for most varietals. Seeds are available year round, and starts can be pre-ordered and scheduled for delivery when you need them. Depending on your preferences and cultivation environment you may want one or both. 
When deciding between seeds and starts it is important to consider your timeline and setup. Purchasing starts guarantees germination of your plant and require less time in the ground. Seeds are less expensive, and have a long shelf life but require an earlier start to the season, infrastructure  space and equipment and can be time consuming. 
Looking for something different?
Our team is working around the clock this season to meet the demand of farmers around the world.
However, we are here for you! Contact us today to answer your questions or receive a FREE genetic consultation.