Feminized CBG & CBD Hemp Seeds
iHEMPx is proud to offer the highest quality selection of trusted hemp seeds from the leading companies and growers in the country.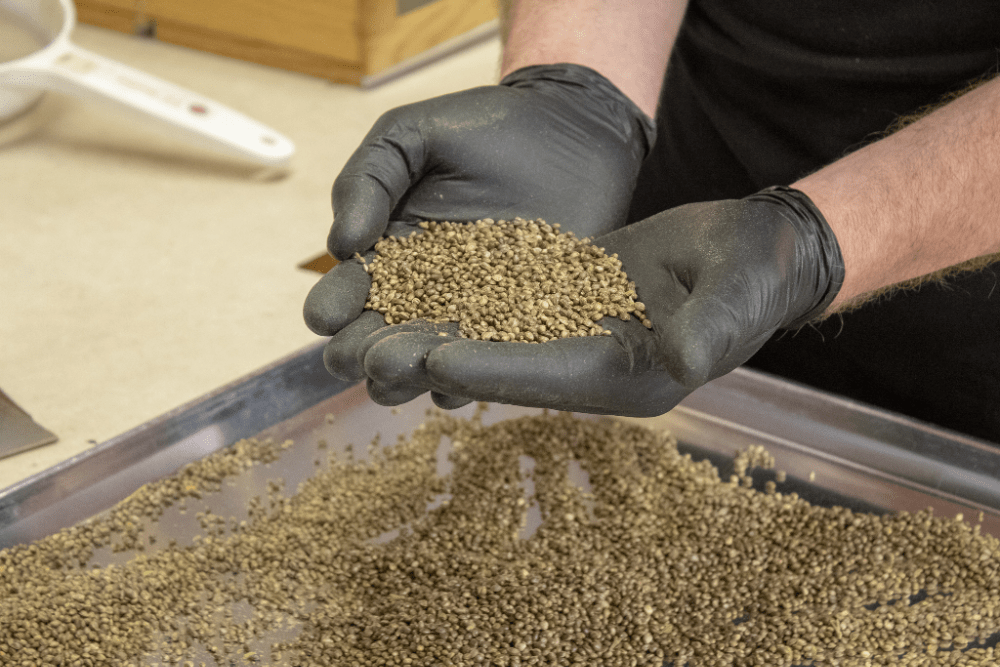 The team at iHEMPx works hand-in-hand with our trusted network of partners around the globe to create, cultivate and distribute only the most reliable, high-quality hemp seeds and starts. 
We believe in the power of the hemp plant and the people who grow it. As such, we strive to continuously provide access to our trusted hemp seeds and starts within our communities.
We uphold the idea that knowledge is power. That's why we provide third-party reporting for all of our varietals including Germination and Feminization Reports and COAs. 
This season, let the team at iHEMPx help you select the best varietal to meet your goals, and determine if hemp starts are right for you. 
FEMINIZATION RATES OVER 99.9%*
GERMINATION RATES ABOVE 95%*
COMPLIANT AROUND THE WORLD
FEMINIZED HEMP SEED FREQUENTLY ASKED QUESTIONS
What varietal will grow best for me?
As with any crop, there is no out of the box solution for which varietal will perform best in your circumstances. Trying to navigate the differences between hemp varietals can seem overwhelming, but it doesn't need to be. 
Things to consider: 
What is your goal end product? 
With an abundance of potential uses, the hemp industry has a place for a wide variety of products. Popular end products serve industries such as industrial, agricultural, recreational and health & wellness.
What is your growing environment like? 
It's important to take into account the location and growing methods you plan to use. Growing outdoors requires different equipment than growing indoors. You will also need to take into account your physical location in regards to factors such as weather, humidity, hours of daylight, and overall space.  Indoor grows will require access to things like infrastructure, climate controls, irrigation systems and lighting. 
What are the laws where you live? 
Depending on where you are located the laws and regulations regarding hemp may vary. It's important to know what restrictions you have before making a selection.With that being said, it's easy to research statistics and values online, but your best bet is to always ask for verified lab reports before making a purchase. 
These are only a few of the questions you should be prepared to answer when selecting your hemp genetics. Above all else, we recommend working with a company who has a good reputation, quality genetics, documents to support their data and great customer service. 
We'll be here to provide a FREE genetics consultation when you are ready. 
Which varietals are compliant?
All varietals offered through iHEMPx are compliant with the established US federal regulations below 0.3%. Many of our varietals yield high levels of CBD and minimal levels of THC making them internationally compliant as well. All of our varietals are rigorously tested before being put on the market. COAs are available for each varietal. 
What does "AOSCA Approved" mean?
The Association of Official Seed Certifying Agencies (AOSCA) is dedicated to assisting growers and suppliers in the production, identification, distribution and promotion of certified classes of seeds. 
AOSCA Approved means those varietals are approved for Certification and meet the requirements of the Association of Official Seed Certifying Agencies, relating to purity, germination and variety identity. AOSCA Approved "certification" is a 3rd party auditing and inspection program that is designed to assure growers and buyers that varieties are tested for seed quality and are true to the variety description. 
Should I buy seeds or starts?
We offer both seeds and starts for most varietals.
Seeds are available year round, and starts can be pre-ordered and scheduled for delivery when you need them. Depending on your preferences and cultivation environment you may want one or both. 
When deciding between seeds and starts it is important to consider your timeline and setup. Purchasing starts guarantees germination of your plant and require less time in the ground, however the upfront cost of seeds is   less expensive. Seeds also have a longer shelf life and can be started indoors with a controlled atmosphere.
Looking for something different?
Our team is working around the clock this season to meet the demand of farmers around the world.
However, we are here for you! Contact us today to answer your questions or receive a FREE genetic consultation.